Why Australia
Robust Economy
Australia has entered its 28th year of consecutive annual economic growth, setting a new record among developed economies for uninterrupted expansion.
This enviable record of steady growth proves the robustness of Australia's economy and its reliability as a low-risk and safe environment in which to do business.
The country's strong regulatory institutions, ability to respond to global changes, and diversified, services-based economy underpin its steady growth.
Australia's economy is:
the world's 14th largest
rated AAA with a stable outlook by all three global rating agencies
forecast to realise average annual real GDP growth of 2.7% over the next five years – the highest among major advanced economies
characterised by diverse services and technology sectors and low government debt.
1. A LARGE AND GROWING ECONOMY
Despite Australia comprising just 0.3 per cent of the world's population, its economy is expected to be the 14th largest in the world and the fifth largest in the Asian region in 2019. Australia's nominal GDP is estimated at US$1.5 trillion (almost A$2 trillion) and accounts for 1.7 per cent of the global economy. In 1999, Australia's total production value was just US$411 billion, meaning it has more than tripled in two decades.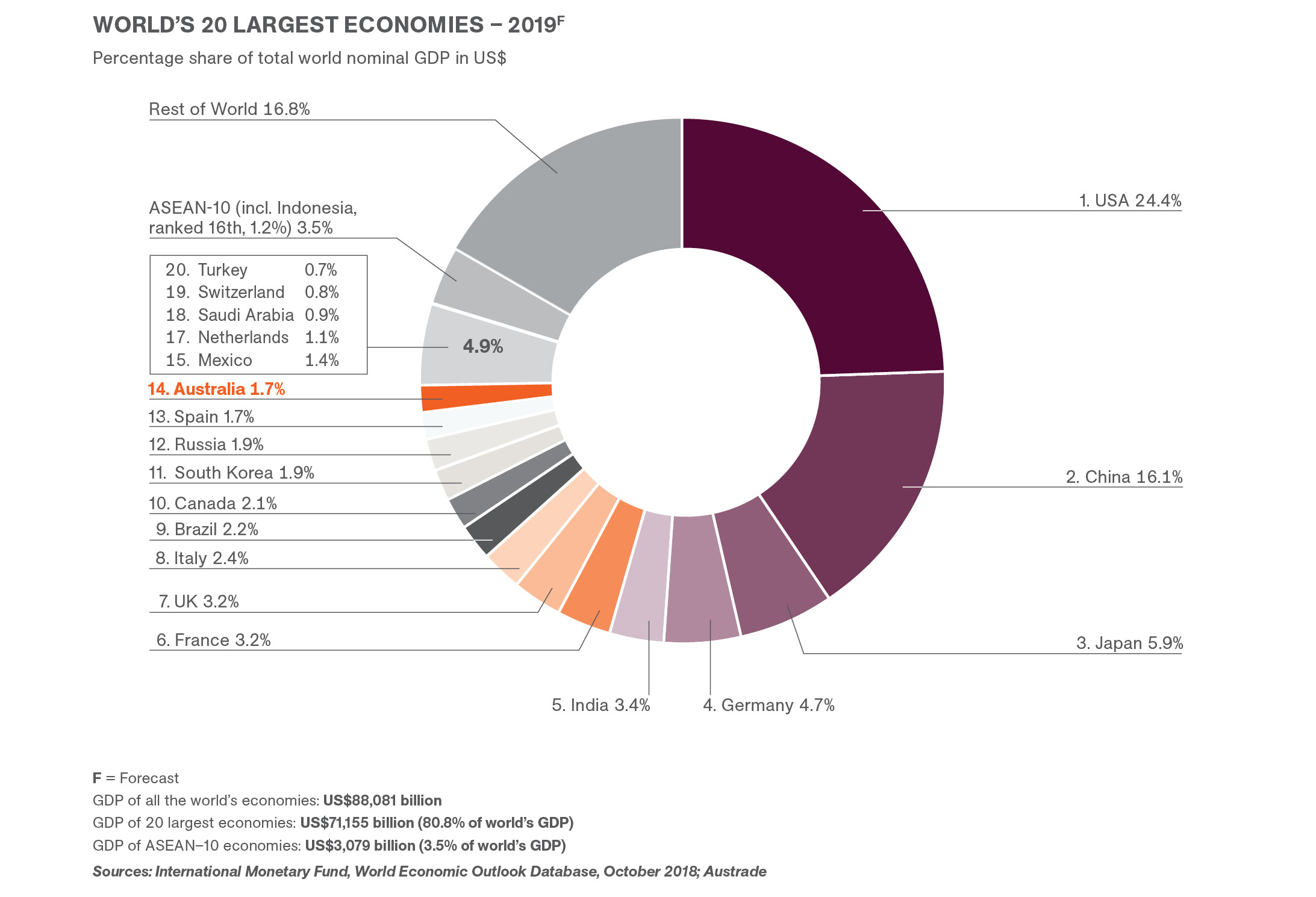 2. 28TH YEAR OF CONSECUTIVE ANNUAL ECONOMIC GROWTH
Australia has entered its 28th year of uninterrupted annual economic growth, increasing more than three per cent on average each year since 1992. Australia is the only major developed economy to have recorded no annual recessions from 1992 to 2018. The economy's robustness is sustained by solid policy frameworks, strong institutions, an attractive investment environment and deep trade ties with the Asian region.
3. HIGHEST GROWTH AMONG MAJOR ADVANCED ECONOMIES
Australia has continued to enjoy a robust economic performance relative to other developed economies while adjusting to the end of the mining boom of the 2000s. Australia is expected to realise average annual real GDP growth of 2.7 per cent between 2019 and 2023 – the highest among major advanced economies and up from an average growth rate of 2.6 per cent between 2014 and 2018.
Dynamic Industries
Australia has achieved significant global success in the energy and resources, agribusiness, education, tourism and financial services industries.
The country is also developing and commercialising new disruptive technologies in a range of sectors, including agriculture, education, financial services and healthcare.
Australia is renowned for its resources sector, upon which Asia continues to rely to help fuel its industrialisation. Australian agricultural commodities and premium food are in high demand worldwide, as are its tourism, education, wealth management, healthcare and professional services.
Australia is:
the world's largest producer of gold, iron ore and uranium
a major global producer of agricultural commodities
a leader in investment management, with the sixth largest pool of funds under management in the world
the world's third most popular destination for students
the seventh largest international tourism market.
1. GLOBALLY SUCCESSFUL IN FIVE KEY INDUSTRIES
Australia is a major producer of in-demand agricultural commodities, premium food and natural resources. The nation is a leading destination for international tourists and students in tertiary education. It also has large, expanding, sophisticated financial markets, including the world's sixth largest pool of managed fund assets.
2. A LEADER IN NEW TECHNOLOGIES
Australia's transition to a services-based economy is driving the development of new technologies in agriculture, education, financial services and health, among other sectors. This includes the use of blockchain in finance, immersive simulation technologies in education, robotics in medical procedures and the Internet of Things in agriculture.
3. ABUNDANT RESERVES OF MINERAL AND ENERGY RESOURCES
Australia's natural resources continue to be a vital contributor to the nation's wealth. It has the world's largest resources of iron ore, gold, lead, zinc, nickel, rutile and zircon, as well as the second largest bauxite, cobalt, silver and copper reserves. Australia also has the world's largest uranium reserves and the second largest brown coal deposits, enabling it to play an important role in supplying the world's energy needs.
Innovation and Skills
Education, innovation and science underpin Australia's economic prosperity and job creation.
Australia's highly educated, multilingual and multicultural workforce has an entrepreneurial spirit. The country has world-leading capabilities in blockchain and quantum computing, and its robust startup ecosystem has strong competencies in agtech, edtech, fintech, foodtech and medtech.
The country is:
ranked 5th in the world for global entrepreneurship, with almost half of all Australian firms active in innovation
involved in cutting-edge research, contributing to over 4% of world research publications in 2017 despite having only 0.3% of the world's population
a highly skilled nation, where over 40% of the workforce has a tertiary qualification
culturally diverse and multilingual, where 28% of the population was born overseas and 3.2 million Australians speak an Asian language and 1.4 million speak a European language.
Australia's intellectual capital, commercial focus and collaborative approach make it an ideal partner for business and investment activities.
1. RECORD OF INNOVATION
Australia is a nation of inventors and entrepreneurship is on the rise. The nation's rollcall of inventions, which includes high-speed wi-fi and Google Maps, speaks for itself. Australia welcomes investment in its intellectual capital to help lay the groundwork for future discoveries.
2. AN INNOVATIVE, HIGHLY EDUCATED NATION
Australia's highly educated workforce has the skills to service a diverse range of industries. The 2018 Human Development Index ranked Australia third in the world – well above many other major developed economies and ahead of all members of the G7. The quality of Australia's ICT infrastructure, its human capital and research, and scientific research publications are all ranked in the world's top 10.
3. LEADING ECONOMY FOR R&D EXPENDITURE
Australia invests approximately US$21 billion on R&D (on a purchasing power parity basis). The nation's R&D expenditure places it among the world's leading innovative countries, including the USA, Japan, France, Germany and South Korea. Australia's gross R&D expenditure has increased, on average, by around 6.8 per cent annually in PPP terms since 2000 – well above the OECD average growth rate of 4.8 per cent.
Global Ties
Australia has an open and globally integrated economy, making it a trusted partner for trade and investment.
Nine of the top 10 Fortune Global 500 and eight of the top 10 Forbes Global 2000 companies have operations in Australia.
International companies can tap into Australia's deep business and cultural ties with Asia to expand into or enter global value chains across the region. Australia's free trade agreements facilitate the smooth flow of goods, services and investments with major economies across the globe.
Australia has an open trading economy where:
10 of the country's top 12 export markets are within Asia and Oceania
two-way trade in goods and services totalled A$763 billion in 2017
foreign investment stock totalled around A$3.6 trillion
inward foreign direct investment stock reached A$849 billion in 2017.
1. AUSTRALIA'S TOP 12 EXPORT MARKETS
Australia's links to Asian markets are more vital than ever. In 2017, 10 of Australia's top 12 export markets were located in Asia and all were rated above investment-grade. Their combined value was around A$275 billion, making up more than 70 per cent of Australia's total goods and services export earnings of A$387 billion in 2017. Since 2007, the total export value of Australia's top 10 Asian markets has doubled.
2. STRONG TWO-WAY TRADE
In 2017, Australia's two-way trade in goods and services totalled A$763 billion, making up more than 40 per cent of nominal GDP. The Asian region accounted for around two-thirds of Australia's total trade, with a strong compound annual growth rate of seven per cent since 2007. Nine of Australia's 12 largest markets – with a total trade value of around A$453 billion – are in Asia and Oceania, reflecting the nation's advantageous location and integrated economic ties.
3. SUCCESSFUL TRADING ECONOMY
Australia's export volumes have continued to increase as the inflow of foreign direct investment (FDI) since 2007 translates into new production capacity. The nominal export value of goods and services surged by 15 per cent in 2017, with robust growth in mineral and fuel exports. Services exports increased by almost nine per cent in 2017 and contributed A$85 billion to export earnings, due to strong growth in education and tourism services.
Strong Foundations
Australia's democratic institutions and sound governance create certainty for multinational companies looking for a low-risk environment in which to do business.
With almost all businesses open to foreign competition, robust regulatory frameworks and transparent business processes, Australia continues to be an attractive and dynamic destination for investment.
Australia's free market democracy also facilitates vibrant entrepreneurial development.
Australia offers:
an environment that is ranked in the top 20 out of 190 economies for ease of doing business
an economy that is resilient to economic cycles
judicial independence and strong control of corruption
a welcoming place to live and work, with six Australian cities ranked in the global top 40 for their quality of living.
1. AN ATTRACTIVE PLACE TO DO BUSINESS
Australia is one of the easiest countries in the world to set up and operate a business, ranking in the top 20 out of 190 economies. It takes around 2.5 days and a minimum of three procedures to start a business. Australia is also placed in the top 10 for enforcing contracts (5th), getting credit (8th) and dealing with construction permits (9th).
2. FOURTH LARGEST PENSION SYSTEM IN THE WORLD
In 2017, Australia became the world's fourth largest pension (superannuation) market, valued at US$1.9 trillion. It also experienced one of the highest growth rates of pension fund assets in the world. Australia's pension assets rose to almost 140 per cent of GDP in 2017, up from 114 per cent in 2007. These findings illustrate the size and long-term growth of Australia's pension system, which is a major force behind the country's rapidly expanding, globally significant managed funds industry.
3. STABLE, FRIENDLY, AND EFFICIENT BUSINESS ENVIRONMENT
Australia is rated among the most business-friendly economies and has one of the world's most robust regulatory environments. The nation ranks highly on social capital, the soundness of its banks, central bank policy, and the economy's resilience to economic cycles. Australia is also in the world's top 10 for business legislation (complexity of tariff, equal opportunity and efficiency of clearance processes), judicial independence and rule of law.